The travel organizer Aventura Latino Americana reveals each year in a more notorious way as one of the only really specialist of Peru in BENELUX.
Aventura Latino Americana is the only Belgian travel agency which has license to function in Peru, also the only one which offers to you an office in Belgium and in Peru at the same time with its proper group composed by Belgian and Peruvian people, and more of ten years of experience to help you discover Peru and above all to teach you live Peru with people who love the country : Guy Vanackeren, Carine Beckers, Alejandro Villar, Rosalim Inga, Luis Garrido, Clara Loaisa, Victoriano Chillihuani, ... in Peru. Artisans of the distinguished difference, more than specialists, they are the authentic "Magicians of your travel".
Also, more and more tourists confirm the success of their travels entrusting the reserves, informationand guided task(difficult in Peru) to Aventura Latino Americana. Ask for references to some of the thousands travelers which discovered that fabulous country with Aventura Latino Americana, and you will discover that for an amazing percentage, this travel was and is one of the most beautiful of their life.

---
Aventura Latino Americana has organized also orientation travels for Belgian travel agencies, as travels for press people in support with the Information and Promotion European Center for Latin America (CEIPAL), basically for journalists and reporters of newspapers and magazines: Le Soir, La Libre Belgique, Signature Magazine, Voyager Magazine, Climats/Bestemming, Het Laatste Niews, Knack, Le Vif/L'Express/L'Instant, Télemoustique, the BRTN Television, Studio Brussel (radio), etc.
Always in assistance with the CEIPAL, Aventura Latino Americana finished the 95 as the First agency which assured the promotion of Peru as host country of the Adventure Affair fair in Expo Flanders, Gand.
Honored with the "Gaviota de Oro" in 1993 and the "Sol de Oro" in 1994, prize assigned by the National Press Counselors Association of Peru due its work quality, the excellence of its reputation and its constant effort for Peru promotion.
Nominated to The Best Travel Agency Services Awards of Cusco Region in 2002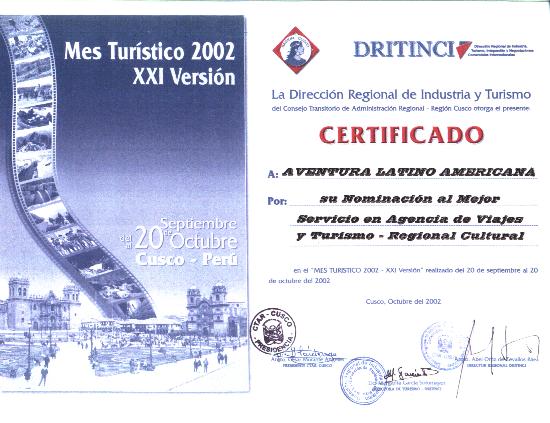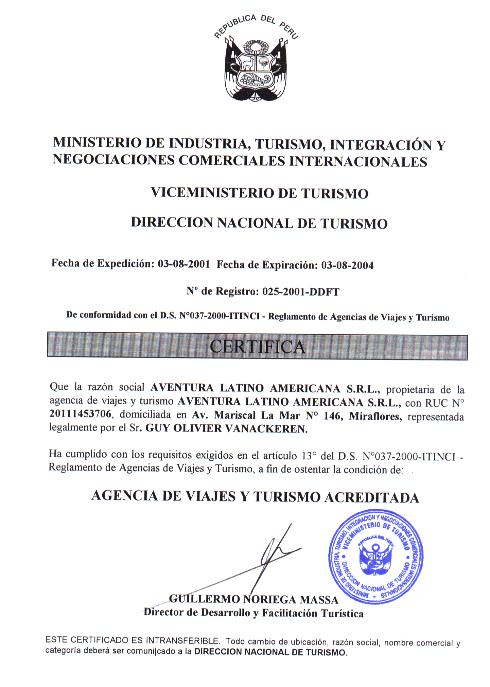 Get information about dates of its diapositives projections.
If you like traveling and are you looking for:
the mysterious, the contrasts in landscape and culture

a friendly population, with men and women of Amerindian, Asiatic, black and European race

diversity, great spaces, fauna and flora in a great biodiversity;

impressive archaeological places which represent a magnificent history, an impressive culture

colored folklore, which is rich in music, dances, customs

magnificent craftsmanship in numberless ways to every budgets

an excellent local cuisine, varied, which presents a lot of typical dishes, and an international proper cuisine, etc.

You will find a place of predilection in Latin America where it is distinguished particularly a country: PERU
---
Frequently Asked Questions:
- Is Peru an easy country to visit or to discover?
Yes, if you travel with a good organization, even more, if you have time, speak well the Spanish, you are up to date and you have received advice of people who live now in Peru (not people who only have traveled 3 years ago seeing that the cost of life and the touristic infrastructure have changed notably in 3 years).
No, if you travel alone without any prevention. In effect, going to the "adventure" is absolutely dangerous since every point of view.
- Is Peru a country to be recommended?
Certainly, PERU IS ONE OF THE MOST EXTRAORDINARIES COUNTRIES OF THE PLANET! BUT, be sure to have a good travel electing the services of an agency or an operator which would know good that place.
About INTERNET
In assistance with the CEIPAL Information and Promotion European Center for Latin America, you can get information asking to : ceipal@amauta.rcp.net.peor ala@amauta.rcp.net.pe
Visit also the places URL : http://www.geocities.com/The Tropics/4674/
and the pages of Dimitri Mostrey (only in Dutch): http://www.geocities.com/~latinfo/index