Lima
It is by that tentacular city with more of 6 million of people where you will arrive as Tintin and captain Haddock to Peru, by cruiser in Callao port or by airplane to Jorge Chavez international airport, which is the name of one Peruvian aviation pioneer located also in the same town approximately at 45 minutes from downtown or the commercial districts and standing as Miraflores San Isidro, etc.
That new Peruvian capital can be presented under different points of view :


Lima of tranquillity,
Of the opulence, a beach resort coast, with the nautical hobbies that offer its littoral, beaches and its shores which cover the Pacific Ocean, the regattas clubs, swift-sailing's and cruisers, the surf lovers, the most elegant restaurants of the country, with dream views, its hotels, Camino Real great shops in San Isidro (like in City 2 or in Lafayette galleries), its districts of artists, paintings, poets, writers, musician, with its bars, peñas (places where there is folkloric and also afro music as in the Andes or other regions of the country).


Colonial Lima "Damero de Pizarro"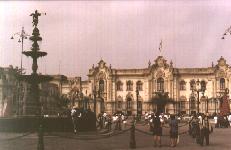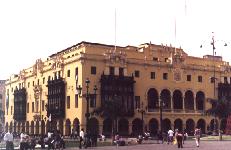 Founded by that conqueror in 1535 and who, until the beginning of the cycle, ordered "the whole Lima", Lima of conquerors, viceroyalty with its personages like the Perricholi. Lima's downtown and also Lima of the chaos, of informal selling (you can buy EVERYTHING. Since you need to build a whole house and to fix it, without the need to go into a store!). In that part of the city there are particularly traffic jam and the traffic is totally monstrous in crowd hours.


Lima of "Shanty towns ",
The result of a rural exodus with a population which looked for the solution to its difficult conditions of life and it found in front to the misery the hunger, the delinquency, the violence, the drug, etc. Very hard elements of life which face up the courage mothers, the Mother Clubs, "Comedores Populares" . Men, women and children of a sewer dignity.


Lima of archaeological places and magnificent museums.
Peru has abundant archaeological services of every kind (ceramics, cloth fabric, gold objects money, etc.) which belong to numerous prestigious cultures : Chavin, Huari, Chimu, Mochica, Nazca, Paracas, Moxeque, Vicus, Inca, etc. Which you will find in the illuminated frames that museums propose you to discover in the tranquility of their halls.


Visits and excursions
CITY = Visit of the Colonial and/or Modern Lima, Plaza de Armas, Cathedral, Plaza San Martin, Jr. Lampa, Palacio de Justicia (reply of Brussels palace), Miraflores and/or Barranco.
MUSEUM = Visit to the Nation Museum or other museum (see Table or Carnet de Voyage).
2 MUSEUMS = 2 museums visit + Nation museum + Gold museum or other to choose (see on the side the inset of Museums and/or Carnet de Voyage).
1 SITE = could be Pachacamac or Cajamarquilla (two vast and very beautiful places of Inca and pre-Inca epoch) etc... For children or eventual promenade : Parque de las Leyendas (zoo, playground).
2 SITES (item)
MARCAHUASI Excursion and mini trekking. Necessary time = three days Lima > Lima (excursionist and tent).
LUNAHUANA/ CAÑETE (Rafting, TN = a day)
PARAPENTE / DELTAWING/ PARAGLIDING.


MUSEUMS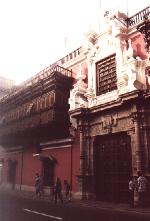 Nation :
Extraordinary view about all the precolombian cultures, photos, scale models, graphics, ceramics, etc. = other temporal expositions.
Oro* :
Gold and precolombian objects, colonial arms
Larco Herrera*:
Mochica culture, room of erotic huacos and others.
Arqueología y Antropología :
all the cultures.
Historia Natural :
Fauna of air, land and sea from Peru. (A little dusty).
Or the Inquisition, Art, Italian Art,
Amano*, Pedro de Osma*, Enrique Poli*, etc.
* private museum TN = necessary time
---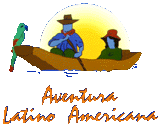 Aventura Latino Americana SRL
Avenida Mariscal La Mar, 146 Lima 18 (Miraflores) Tel/fax: 51-1-447.14.44
2003 copyright Aventura latino americana SRL & Guy Vanackeren